Hurry, you only have this much time to take advantage of our special offer!
Special Ends at 12:00 Midnight on 1/12/21
Let us help you dominate your social media presence this coming year with
➡️ Less time
➡️ Less energy
➡️ And more impact in 2021!!
The Chiro Collective provides you with turnkey & customizable content made by Chiropractors for Chiropractors! 
Beautiful chiropractic Instagram stories for you to share with your community every week
Amazing graphics, photos, and content for social media posts for every single day of the year
An all access pass to over 200 Instagram stories in our archives
 Tons of fun referral and new patient campaigns to run in your office and on social media
And all delivered in a super simple way so that you can delegate more and not worry about your chiropractic assistant being able to communicate your message with the art, philosophy and science of Chiropractic!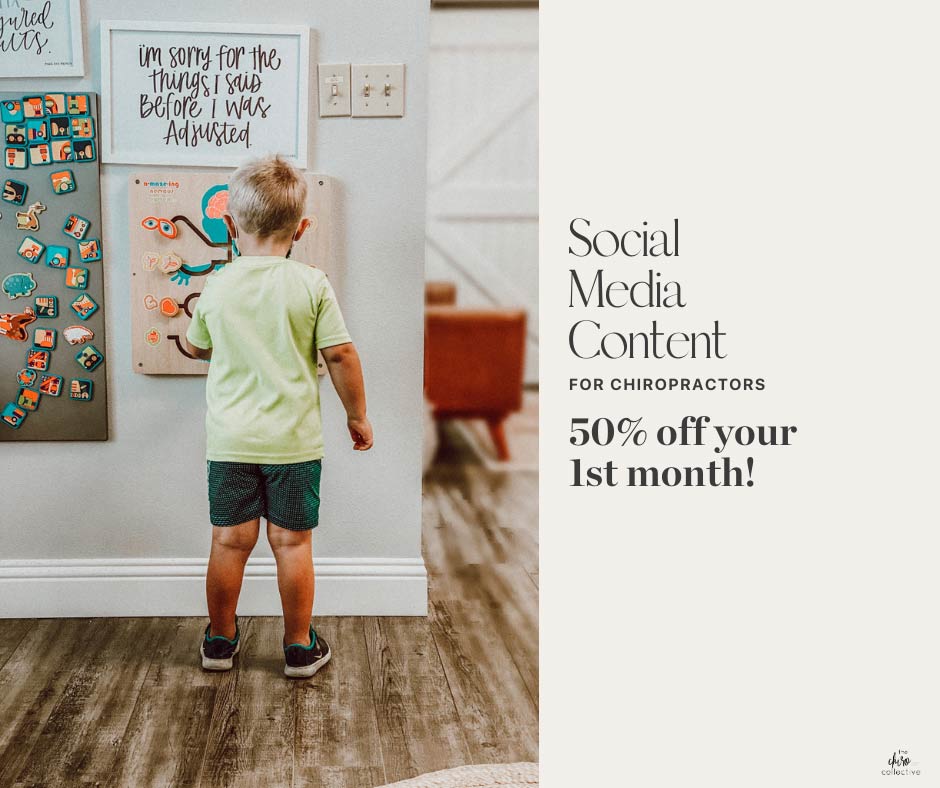 Getting started is super simple!
• Use the link below to sign up!
• Enter TAKE50 to get your first month for half off!
• We'll send you an email with an invitation to our private Facebook group
• Jump in and all your content is right at your fingertips and ready to go!
It's that easy! 
Ready to rock 2021 with more ease & grace! We got you!
Here's what our members are saying about how Chiro Collective has helped them!
"Chiro Collective has been a game changer for our social media game! Weekly and monthly content planning is so much easier and streamlined for our practice and keeps all our communication Mama, Kiddo, and family wellness focused so we can reach more families in our community with ease! Thank you, ladies, for all the hard work you do!" 
"We are loving the new graphics! Everything has been amazing! We cannot thank y'all enough. We have always had a pretty strong social media game, but all of your material is helping us so much!"

"We are absolutely loving the content! This is such a great program. Thank y'all so much for all your hard work!" 
"I have absolutely loved Chiro Collective! Being a solo practitioner and a mom (with a husband who is gone a lot) I was struggling with keeping consistent content on my pages. The content is customizable and extremely relevant to the stressors of daily life! I highly recommend!"
"Just made our first Chiro Collective post! I'm in love already! You have no idea how much I loathe posting on our business page! You're a lifesaver and a sanity saver! Thanks so much!" 
"I probably shouldn't say this. But … this goodness is worth way more than what you're charging and I know it's going to do great things for our practice!"
I would like to know more about your social media services and how it will help me get more new patients and keep existing patients engaged. Please contact me.